That time of year is coming up.  The Super Bowl!  After the Super Bowl, teams will start cutting players.  The free agent signing period is always fun, whether you're a fan, or an 'Armchair GM' playing the newest edition of Madden.
Today we look at the safety position.  The Chiefs are well set with Eric Berry at Strong Safety (SS). Backup SS Abram Elam is set to be a free agent in 2013.  The Chiefs need to keep depth at the SS position, so offering Elam a new contract, or seeking a free agent will need to be done.
Free Safety (FS) Kendrick Lewis is another story.  Lewis injured his shoulder in the preseason of 2012 against the St. Louis Rams. Due to the nature of the shoulder injury, K. Lewis only played in nine games in 2012.  During some of those games, he just didn't look comfortable using that injured shoulder when trying to make a tackle.  His tackle total in 2012 was just 24,  with 2 assisted tackles.  That's an average of 2.6 tackles per game.  At 24 years old, he still has a whole career ahead of him.  Here's a look at his three year career so far:
The most pressing  question is, can he return to his 2011 form?  How well will the shoulder heal? If a healthy K. Lewis and Eric Berry can keep the field for 16 games, they make a formidable duo, perhaps the best in the AFC.
FS Tysyn Hartman did a decent job in the latter part, mainly December, of the 2012 season filling in for Kendrick Lewis.  He is signed through 2015, so he does provide depth at the position.  Competition will probably be brought in to challenge a couple of roster spots for the safety positions.  Tysyn Hartman's 2012 stats can be found here via NFL.com.
FS Travis Daniels will also be a free agent on March 12, 2013 when all current 2012 contracts expire.  Travis was not an impact player in 2012, and I don't see the Chiefs renewing his services.
Heading into the off-season and draft, it looks like the Chiefs will have Eric Berry at SS and Kendrick Lewis and Tysyn Hartman at FS.  The Chiefs will definitely need to add at least to more SS and another FS to create some positional competition heading into camp in 2013.  This can be done in two ways, the free agent market and the draft.  Let's take a quick look at some of the upcoming NFL big name free agent Safeties that will be hitting the market.
Jairus Byrd of the Buffalo Bills will be one of the most sought after free agents.  He had a great 2009 rookie campaign in which he recorded 9 interceptions in 14 games and was the first Bill's rookie to be selected to the Pro Bowl since Greg Bell in 1984.  He will be starting somewhere in 2013, but don't expect to see him on the Chiefs roster.
Dashon Goldson of the 49ers is seeing an increase in his free agent stock, since he has been a big part of the 49ers defense.  Since 2009, Goldson has been putting up good numbers and is one of the better Safeties in the NFL.  Dashon came into the league in 2007 and has been very effective.
Dashon may very well be the top free agent Safety on the market.  The 49ers should re-sign him.
Ed Reed of the Baltimore Ravens is also a top NFL Safety.  He is in his 11th NFL season and is showing no signs of slowing down.  At 34 years old, he will continue to start until the day he retires.  Kansas City has no chance of landing Reed.  It would be great to have his veteran ability and physicality on the field, however this scenario won't happen.  His career stats can be found here (via NFL.com).
Kenny Phillips of the New York Giants is a five year veteran who will land somewhere via free agency if the Giants opt not to try and re-sign him.  Phillips injured his knee in week four  vs the Eagles and only saw action in seven  games in 2012 due to the injury.  He had a good campaign in 2011 registering 4 interceptions with 11 passes batted down in 15 games.  Phillips could provide good depth to the SS position and create a good camp competition to lock up the number two SS spot.
William Moore of the Atlanta Falcons will be one of the top names to come up also.  He played college ball at the University of Missouri (M-I-Z…Z-O-U), and is originally from Hayti, Missouri.  Being able to bring a homegrown player back to where it all began would be a great feeling.  His career in Atlanta has been a success thus far.  If the Chiefs have any doubt about the capabilities of Kendrick Lewis returning to his former self, and decide to release him, Moore would be a suitable replacement.
These are probably the biggest name Safeties coming to the free agent market in March.  Will the Chiefs target one?  Maybe, maybe not.  With the new management and coaches, all we can do is sit back and wait.  The upcoming 2013 NFL Draft will be the second place to target a player to fill roster spots.  These listed Safeties are sure to go in rounds 1-3, and it will be surprising if any of them last into round 4 or beyond.
Many experts in the college positional ranking community have the University of Texas' Kenny Vaccaro (link to stats) listed as the #1 Safety in the 2013 NFL Draft, and predict him to be a top 15 pick (via B/R).  At 6'1″ and 218lbs, he is a hard hitting beast of a player at the Safety position.
The second top ranked Safety is Matt Elam from the University of Florida.  The kid from Gainesville, FL is also considered to be a lock as a 1st round pick.   This is what Stephen Sheehan of BleacherReport.com had to say:
One of the most exciting players in college football, Florida's Matt Elam backs up his trash talk with his play on the field. Despite a compact build (5'10", 202 pounds), the former Gator hits like a tank and routinely lights up running backs.

Anyone who watched the Allstate Sugar Bowl got a first-hand glimpse at Elam's physicality and trademark big hits.

While he isn't a great man-to-man safety, Elam has solid instincts to excel in a zone defense. In three years at Florida, the 2012 first-team All-American recorded 176 tackles (23.5 for loss), five sacks, six interceptions and 19 passes defended.

A natural leader who has a knack for making timely plays, Elam is a first-round talent who can anchor the back end of a defense.
The final 3 top Safeties in the 2013 class are Eric Reid of LSU, Tony Jefferson of Oklahoma, and Phillip Thomas of Fresno State.
Eric Reid of LSU had a good college career.  At 6'2″ and 208 lbs, he has ideal size for an NFL Safety.  In 2012 he registered 42 solo tackles and 49 assisted tackles for a total of 91, and had 2 interceptions.
Oklahoma's Tony Jefferson had 85 solo tackles in 2012 As a junior.  85!  He added to that with 2 Interceptions and half a sack.  At 5'11" and 212 lbs, he has a lot packed onto his frame. It would have been interesting to see what his senior year would have been like if he had decided to return to school.
Phillip Thomas of Fresno State had a great 2012 season.  The senior had 7 interceptions along with 54 solo tackles.  At 6'1″ and 215 lbs, he too, has the ideal size for an NFL safety.
One safety that stood out at the Senior Bowl and helped his draft stock increase was Johnathan Cyprien from Florida International University (FIU).  B/R has him projected as a 4th round pick. It would be great if Kansas City was able to acquire him.  Here's what Senior Bowl executive director Phil Savage had to say about Cyprien:
I loved his tackling, his explosiveness. He just had a football temperament that jumped off the tape. We kind of waited and let some of the other people go in and check him out. I had a friend from another team go in and check him out late in the year and I told him to just text me, thumbs up or thumbs down. He texted me 'Thumbs way up.
The senior had a great career.  He had a total of 365 tackles, 6 interceptions, 28 passes defended, and 6 forced fumbles.  His senior season wasn't too bad either.  He had 4 interceptions, 54 solo tackles, and 39 assisted tackles for a total of 93 tackles. It's safe to say he is definitely my sleeper pick on defense for the 2013 NFL Draft.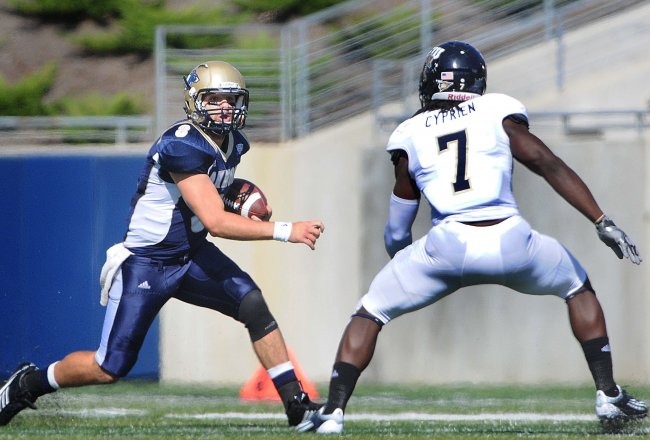 Out of all the listed safeties, future free agents and college prospects, I have two favorites that I would like to see in camp for the Chiefs in 2013.  My free agent pick would be the Missouri native William Moore of the Atlanta Falcons.  My draft pick would be Johnathan Cyprien.   I feel that both of these men could be impact players for Kansas City.
I know General Manager, John Dorsey  is doing his homework on every player that will be available via free agency and the draft.  The Kansas City Chiefs defense needs some work, and acquiring a couple more Safeties is a must.
If you missed my previous article, Top Free Agents of 2013: A Look at CB, click here.
Follow me on Twitter @ChrisAtkins4GM
Don't forget to sign-up for our Chiefs360 Contest! You could win a Kansas City Chiefs FATHEAD Helmet! Sign-up Here!
Thanks for reading, please like, share, and follow us. Help us make Chiefs360.com THE place for Chiefs news, opinions, and more!
(Sources: B/R, WalterFootball.com, ESPN.com, Spotrac.com, and Rotoworld.com)