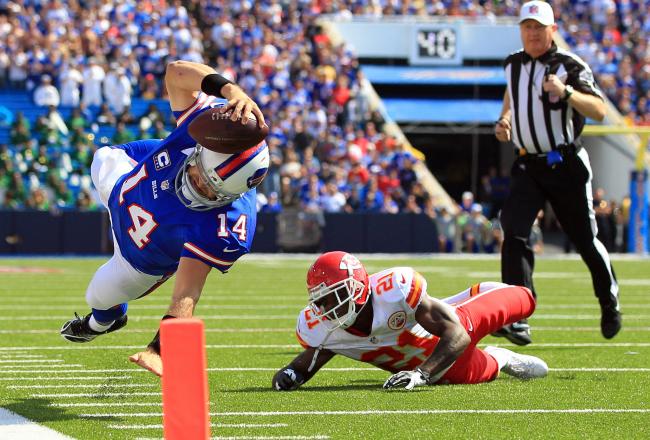 The Kansas City Chiefs finished the 2012 season as the 25th ranked defense giving up 425 total points; to put that in perspective the top five defenses in the league last year each gave up under 300 points. When a team drafts defensive players in the first round, 7 out of the last 9 years, you expect to see better results. 
Bob Sutton was brought in from the New York Jets to help get things back on track as the defensive coordinator.  Sutton joins the Chiefs after spending the past 13 years with the Jets as an assistant coach, the longest tenure for an assistant coach in franchise history.
Most recently, Sutton served the Jets as an assistant head coach/linebackers coach in 2012. From 2009-11 he was the senior defensive assistant/linebackers coach. Sutton was the club's defensive coordinator from 2006-08 and originally joined the Jets as the linebackers coach (2000-05).
Sutton has his hands full, taking over a Chiefs defense that allowed 26.5 points per game on average last year, allowing 30 points or more in 7 games.  Brian Daboll's low-powered, 3 and out, offense sure didn't help things for the defensive side of the ball. Nonetheless, that doesn't change the fact that we have some major holes to fill on defense.
"Bob is a creative coach that is going to give our defense a variety of
looks and packages," – Andy Reid

"One of the most important
things in coaching is to figure out who you are and not who you want to be. We
have to take advantage of the talent in place and try to use that as a starting
point. You don't have to junk the system but slant it or tilt it in the
direction of your strengths." – Bob Sutton
Cornerback
The absolute biggest concern on defense is finding that second cornerback to help out Brandon Flowers. Letting Brandon Carr leave this team is one of the most infuriating things Scott Pioli was responsible for. The Stanford Routt experiment ended with him being outright released before seasons end, completely exposing the position. Javier Arenas just doesn't have the instincts or skill set to be a no.2 cornerback. The lack of depth was blatantly obvious after Routt was released.
With Reid bringing in Al Harris as defensive backs coach, I expect the Chiefs to find that no.2 guy in the draft and develop him. Harris was known throughout the league for his physical, bump-and-run coverage style during his 14 year career as a cornerback. He will most likely bring that same concept to the chiefs CB's.
The Leon Sandcastle joke isn't funny anymore; it was funny for about 2 seconds when the commercial first aired during super bowl XLVII. It hasn't been funny since. The fact that the Chiefs website is selling Sandcastle jerseys tells me that this is somehow still funny to people, I have no idea why.
Defensive End
Glenn Dorsey, another high first round product from 2008 was drafted to anchor the interior of a 4-3 defense. So what do the Chiefs do? Switch him to a five technique in the 3-4 defense. With the low production we have gotten from Dorsey over the last five seasons he has proven that he does not belong in a 3-4 defense. He will most likely not be re signed after becoming an unrestricted free agent this year. This most certainly leaves a big hole on our defensive line. I expect Dorsey to have a good finish to his career on another team that runs a 4-3 scheme.
Tyson Jackson, the no.3 overall pick in 2009 finally started to show some versatility in late November last season. Much of the reason for his increased production was because they decided to start putting him in sub-packages. Jackson has been underwhelming along with Dorsey, but he seems to be a good fit for this defense.
The Chiefs will need to get him signed to a long term deal without breaking the bank. Jackson agreed to restructure his contract last year and took a major pay cut; the same kind of thing will need to happen this year or he will be finding work elsewhere. He's made it clear that he wants to stay here, let's hope a reasonable deal can be reached between Jackson and the Chiefs. If we can't get him re signed we will essentially be starting over on the D-Line.
Safety
Eric Berry's fear of horses is about all we have to worry about with him, along with defending that pesky tight end from the San Diego Chargers who we shall not name at this time…
The safety we need to worry about is Kendrick Lewis. He is constantly blowing coverage, and missing tackles. His nagging injuries since 2011 are also concerning. Lewis will no-doubt be battling for his job during training camp this year. It will be interesting to see how he responds. Reid has already brought in competition at the free safety position with the recent signing of free agent Husain Abdullah. If nothing else, Abdullah will help add depth.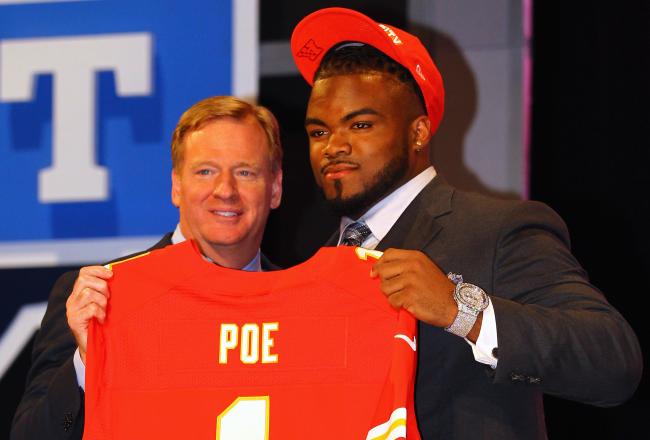 Nose Tackle
The Chiefs are in a good spot depth wise at the nose tackle position. With Anthony Toribio going down with an injury early in the year, rookie Dontari Poe was able to come in as the opening day starter and play all 16 games. Unlike his counterparts on the defensive line Poe was playing all 3 downs. His production wasn't very high but he showed some encouraging signs.
The biggest knock on Poe thus far is his inability draw double-teams. Not good, even for a rookie. In order for the linebackers to get pressure up the middle the nose tackle must be able to command a double team. Its weird with him, I've seen him take on 3 blockers and dominate but then struggle with a double team. He really started showing a lot of improvement over the course of the year. The thing that stands out the most when you watch Poe is his incredible strength.
There are a lot of things to like about Poe. He is a good kid. He works hard and hustles on the field. He has quick feet and carries his weight well. He also plays a lot of snaps which is a tribute to his stamina. Poe is a very raw player with a lot of upside. As long as he can continue to learn the proper techniques, and remain healthy I see a bright future for him.
Linebacker
Kansas City's linebackers are by far the sturdiest part of this defense. But a gaping hole still resides at strong-side linebacker. The time is now, for the Chiefs to draft and develop a young guy who would be surrounded by 3 pro-bowl caliber linebackers. The 2013 draft class is deep with talented linebackers. This is by far the least of our worries, but it still needs to be addressed in order to effectively run our 3-4 defense. Defensive coordinator Bob Sutton loves to be aggressive with his linebackers.
Much of the focus this off season has been placed on the offense, worrying about what will happen at the Quarterback position. Even with 4 defensive pro bowlers representing the Chiefs in the 2013 pro bowl, we have a lot of work to do on the defense if we want to compete for the Lamar Hunt Trophy.
The Chiefs currently have $14 million in which the team can spend in free agency. With some restructuring, the Chiefs can afford more cap room to help improve the defense. Free agency officially begins on March 12th.
___________________________________________________________________________________________
Sources: Pro football reference, draft history, Matt Miller from B/R
Thanks for reading, please like, share, and follow us. Help us make Chiefs360 THE place for Chiefs news, opinions, and more!