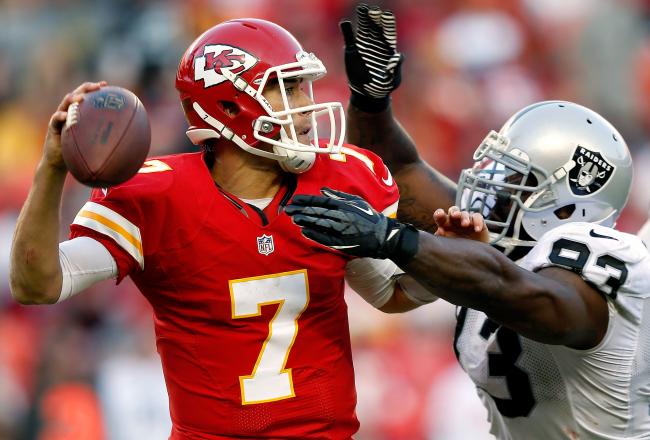 Matt Cassel's four-year run in Kansas City has come to an end as the Chiefs quarterback. With 2 years still remaining on his contract, he was due $7.5 million in 2013, and nearly $10 million in 2014.
In February 2009, the New England Patriots used their franchise tag on Cassel, extending him a one-year contract worth over $14 million, the largest one-year contract for an offensive player in NFL history.Later that off-season, the Patriots made a trade which sent Cassel to the Chiefs,who signed him to a 6 year, $62.7 million contract in July 2009. In 2010, Cassel led the Chiefs to their first division title in seven years, and earned a Pro Bowl berth in the process.
It's safe to say things went downhill from that point on. Most recently, Cassel went 1-7 in eight starts in 2012 and was benched following the team's Week 7 bye. His quarterback rating was a league worst 32nd,  while throwing 12 interceptions and only six touchdown passes.
Career stats
Year
Passing
 
 
Team
G
GS
W
L
Att
Comp
Yds
TD
Int
Rate
 
 
 
 
 
2005
NE
2
0
0
0
24
13
183
2
1
89.4
 
 
 
 
 
2006
NE
6
0
0
0
8
5
32
0
0
70.8
 
 
 
 
 
2007
NE
6
0
0
0
7
4
38
0
1
32.7
 
 
 
 
 
2008
NE
16
15
10
5
516
327
3,693
21
11
89.4
 
 
 
 
 
2009
KC
15
15
4
11
493
271
2,924
16
16
69.9
 
 
 
 
 
2010
KC
15
15
10
5
450
262
3,116
27
7
93.0
 
 
 
 
 
2011
KC
9
9
4
5
269
160
1,713
10
9
76.6
 
 
 
 
 
2012
KC
9
9
0
0
277
161
1,796
6
12
66.7
 
 
 
 
 

Total

 

78

58

24

21

2,044

1,203

13,495

82

57

80.4

 
 
 
 
 
Matt Cassel is one of the best guys you will ever meet, we all wanted him to be the guy. Cassel even helped alert a neighbor that her house was on fire early last year. READ HERE. This is the perfect example of the saying "It's nothing personal." Things just didn't work out the way Scott Pioli or the Chiefs had planned. Trading for Cassel wasn't the mistake in all of this, it was signing him to that huge 6 year deal.
With the trade for Alex Smith, one that will cost the Chiefs a second round pick in the 2013 NFL Draft and a conditional pick in 2014. The writing was on the wall for Cassel.
I see a lot of Matt Cassel in Alex Smith. A game manager, not a game winner. Alex Smith is average at best. An average QB can be more dangerous than a terrible one. Those QB's are just good enough to get by, and can be tough to get rid of.
After doing some research on Alex Smith/Matt Cassel, the statistics are mind boggling on how similar they are as QB's. Cassel's 2008 and 2010 seasons are better than any season Smith has had in his 8 year career. In fact, I believe if you were to put Cassel on the 49ers you would have ended up with identical results. Same goes for Smith in KC. The biggest difference now, obviously is Smith will be pairing up with one of the best QB coaches of all time in Andy Reid.
Releasing Matt Cassel should come as a relief to not only Chiefs fans, but Cassel himself. Things hit rock bottom this season for a lot of reasons. From getting booed at the MLB All-Star game here in Kansas City, to "allegedly" being cheered when he was hurt during the Chiefs 9-6 loss to the Baltimore Ravens. His release was long overdue.
We hate to see you go Matt, but we love to watch you leave!_____________________________________________________________________________________________________________________________
Sources | Pro Football Reference, CBS Sports,
Thanks for reading, please like, share, and follow us. Help us make Chiefs360.com THE place for Chiefs news, opinions, and more!